I haven't been doing too many reviews lately as I haven't had time. But, I do make exceptions. When I got the book Second Ride Cowboy, by my dear friend, Rhonda Lee Carver, I knew I had to do a review. I got to meet her characters in this book back when I was given the honor of critiquing Second Chance Cowboy. I really hoped I'd get to see Lila and Duke's story. I'm glad I did.
Before the actual review, here's a little bit about the book, Second Chance Cowboy.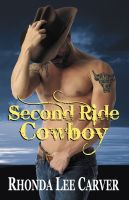 Riding is nice. But riding with a partner is much more fun…
Duke McGraw learned the hard way that life can change in the blink of an eye. Waking up from a coma, he wants nothing more than to ride back into his life—but nothing is the same, not even Lila Sinclair. With pride the size of Texas, Duke builds a wall of anger. Bent, not broken, he climbs back into the saddle to see where the rocky trail leads him.
Lila loves Duke—always had, always will—but the wounds of tragedy run deeper than physical. Confused by Duke's emotional barriers, Lila is at the end of her rope but refuses to lose hope. Tough and determined, Lila's out to lasso her cowboy. But will her nurturing heart be broken again? A man like Duke comes with risks. When playing with fire someone is bound to get scorched.
Some flames never die, and Duke and Lila's connection is hotter than hell. Temperatures rise on the ranch and horses aren't the only thing being ridden. When the future is at stake, choices must be made. Beyond the scars and tragedy, will love rise again or will the second chance be the last?
Available at Amazon and Smashwords
Get to know Rhonda Lee Carver here!
Now for that review.
Chance and Carly's relationship had it's ups and downs, but there were a couple of constants--their love and their friends. Lila and Duke never quit on them, even when they might have quit on themselves. The tables are turned and it's Duke and Lila that need the help.
Ah, memories. Once I opened the book, it was like sitting down with close friends and catching up. I felt like I was right there with them, going through the craziness of life. I liked how Lila had grown and matured. She's a great character. Never backs down and never gives up. Duke...the man had moments where I wanted to smack him. That said, I got very emotionally involved with him. I mean, the guy had been through the wringer and having scars is never fun. I can relate. I liked the evolution and the absolutely sinful sparks between them.
If you want a down home type of story guaranteed to stick with you, then this is definitely the book for you.