Got a fantastic review for
One More Night
and I can't wait to share it with you!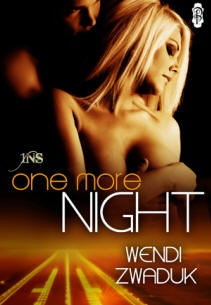 "This story was such a sincere and understanding reality of how our insecurities from the past can be worked out when there is communication in a relationship. Whether it is about personal issues with your family up bringing baggage or your sexual appetites, there is nothing that love can't fix especially when love connects you with your soul mate – after all, love does conquer all.
Jenna and Drake's erotic passion burns the pages up, the erotic foreplay, spankings, one on one love making and anal action had me spellbound. The tenderness and understanding Drake gave Jenna after getting everything out in the open left me craving for more of their on going future. I look forward to reading more of Wendi Zwaduk's work."
Read the full review here!
Fear can blind. Will love show the way in the dark? All it takes is one more night...
Three years ago, Jenna ran away from what should have been the best night of her life. Letting her fear and shame get in the way of true happiness has haunted her ever since. It's time to move on and put the past behind her. A date through the 1Night Stand service is the perfect opportunity to start living life again.
When the love of his life slipped through his fingers, Drake hated to let her go. A near-death accident prevented him from going after her. But after three years of recovery and waiting, he's ready to take back what's his, and he'll do whatever it takes to keep her from running again.
Can Madame Eve work a miracle or will love lose out to pride and fear?
Want a copy of your own? Go here!