Their marriage is about to fall apart, but not if she can help it and he's willing to bend.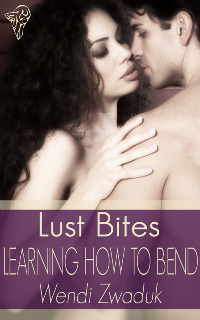 Abby Donovan imagined nothing could change her simple life as a librarian. Her loving husband Seth, a mechanic in the Air National Guard, is scheduled to return from a short deployment in Iraq. Before he gets home, a letter arrives. It seems Seth is asking for a divorce. She must decide whether to walk away without a fight or to wait and confront him with the thing he's always dreamed of - a ménage a trois. But all is not as it seems.
Seth Donovan wanted an idyllic life to go along with his career in the military. Then he sees the atrocities of war firsthand. A conversation with a colleague ends up as fodder for the rumour mill and so much more. Seth never wanted a divorce. He wants his wife. Will she accept him despite the rumours and advances from another man? Or can their relationship withstand the turmoil of war?
Here's those ten lines!
Seth's gaze zeroed in on the tiny barbell that pierced her right nipple. A steel ring dangled from her left nipple and another decorated her navel. Shock rocketed through his veins and his cock strained against his pants. He liked body jewellery, but assumed she wouldn't indulge his desire. Just when he thought he had her pegged as predictable and conservative, she threw him a curve ball. He nodded and yanked his shirt off. God, he needed her in his arms. The sight of her piercings was more than enough to make him want to join in, take over, and kick Nate to the kerb.
Seth crossed the short distance to where Abby stood. He wrapped his arms around her midsection and nuzzled her ear from behind. "I can't let him have all the fun." She nodded and he caressed her breasts while their lips met in a hungry dance.
Nate moved down between her thighs. "I knew you couldn't just watch."