I wanted to share my steadfast writing partner. He's always there to keep me company, to suggest ideas for plots and shed fur all over my keyboard.
Last week, he inserted his fuzzy, feline self into a
WIP
by sitting on said keyboard and staring at me until I gave him attention. That's probably why most all of my
MS's
have a critter and or racing in them.
So now, without further ado, here's Kenny Wallace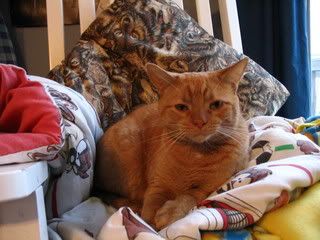 BTW: He is named after a
NASCAR
driver - Kenny Wallace - and yes, I did meet Kenny Wallace (the human) and he was honestly thrilled (he told his wife to look when I showed him a picture of my Kenny Wallace to autograph). Unfortunately, unlike the real hyperactive Kenny Wallace, my Kenny prefers the comfort of an old blanket or his favorite spot: the cardboard box on my computer desk
plushed
with an old fleece baby blanket and an old baby towel. Spoiled, he is not... well, not much.