It's time for Ten Line Tuesday and I didn't want this week to pass without mentioning my newest release, Best I Ever Had. You might remember this started out as a free read over at Whipped Cream Reviews. I expanded the book and found some great surprises along the way. Check it out! Here's a little bit about the book: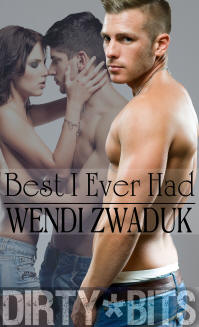 The objective—keep her safe. No one said anything about falling in love.
All she wanted was a pint of ice cream, not to be a witness to a double murder. Good thing Emma's got not one, but two, sexy men willing to keep her safe. As long as she can keep her hands to herself.
Sam's mission? To find the man responsible for the murder. He's not going to rest until the streets are safe, even if it means having his best friend guard his best girl. It's the best option, right? Quint never dreamed he'd be attracted to his best friend's lover…and his best friend. He's got to keep his hands to himself all while figuring out what he wants from life, even if love equals Emma and Sam in Quint's bed.
Is love in the cards or are they going to go up in flames before they get started?
available here!
And now for those ten lines!
"It's always hotter than hell right before the sun goes down." Emma Rhodes tugged the hem of her tank top. No amount of shifting would get the air moving between her shirt and her body.

"I don't want to be hot," she muttered. "I don't want to be in hiding, either." She turned her back on the sliding doors. "Aren't you tired of this, Quint? We live together because Sam wants to keep me safe. How crazy is that?"

"Em, it won't be much longer. Trust Sam. I do." Quinton Reynolds widened his stance at the front door. "He's not here, but he does care. We won't let anyone hurt you."

"Thanks." Emma threw her arms around him and rested her head on his chest. She loved Quint, but some days being alone with her roommate-slash-bodyguard sucked. She missed her husband, Sam.

"If you don't behave, I'll turn you over my knee and spank the sass out of you. Bet Sam would love to watch that," he said with a wink and released her. "He'd watch and insist I make your ass nice and pink."