I want to say I had a great time at the Get Together. I learned a lot and met some fantastic people. The drive was long, but worth it.
First, I got my pic taken with a cover model. Never figured that would happen because well, I never figured it would. Here's the outcome:
..
Not a bad experience...
Then I met the one and only LORA LEIGH! How cool is that? She is so cool and down to earth. More authors should be like her. But then I met so many other authors that rocked as much as she did, so it was all good.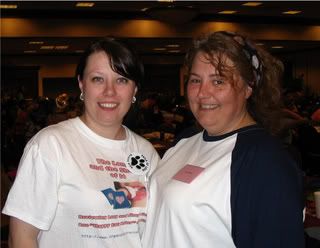 Now some shout outs...
Lorie O'Clare - you cracked me up. Love the book!
Anne Rainey - loved seeing you. You rock. Can't wait to get into
Seduce Me
. Should've got a pic, but I forgot. Next year I'll buy the beers. But then I'll never look at super glue the same way again... you know.
Amy C. - I'll read your book as soon as it comes out. Say hi to mom for me too.
Michelle Witvliet - Damn Good Man rocks and we should all read it. Thanks for being a friend and fountain of info.
Janice Maynard - you remembered me which is pretty cool since you must meet tons of people.
Erin McCarthy - great to meet you and see who writes those sexy race books
To the lady we shared the Menage a Trois with (get your mind out of the gutter - I am referring to the wine!). Thanks for sharing and being cool.
U and Terra - you guys are hilarious! Love ya!
Tee, Lady B, Carol, Really Bad Barb - you guys make the event fun too.
Lori and Dianne - I had a blast. Can't wait for next year.
and Linda - my adopted mother - I think this should be a yearly thing for us. You rock. I hope all that you worked for works out (you know what I mean).
Hugs and love all around!
Oh, and check out the Whipped Cream site on Thursday!! I have the free read! Comment and tell me if you like or not and why. I'd love to hear from ya!