Firelit Magic by Wendi Zwaduk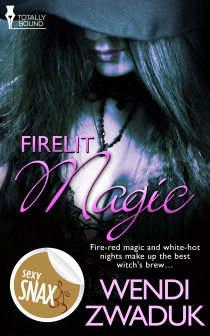 Contemporary, Paranormal - Witches
Novella
Totally Bound
Fire-red magic and white-hot nights make up the best witch's brew…
Young witch Cian is coming into her own—and her magic. She's happy rescuing the black cats that society doesn't want, but she's lonely. A sexy man to warm her nights would be perfect. Too bad the man in question isn't interested—or is he?
Officer Tommy Barnes noticed red-haired beauty Cian the first time he stepped into her store, but a witch and a cop shouldn't mix—should they? And what's with her seemingly sinister interest in black cats? He can't deny his attraction to her, so while his sixth sense says she's harmless, a little investigative work between the sheets never hurt…
Can Tommy withstand the red-hot fire or will this witch get the best of him?
Reader Advisory: This book follows secondary characters from Candlelit Magic.
​
Available here:
https://www.totallybound.com/firelit-magic#excerpt
And now for that Snog!
By reading any further, you are stating that you are 18 years of age, or over. If you are under the age of 18, it is necessary to exit this site.
Copyright ©
Wendi Zwaduk
2014. All Rights Reserved, Total-E-Ntwined Limited, T/A Totally Bound Publishing.
Cian leaned over him and helped him free himself of his trousers. She picked up the condom and tore the foil packet in her teeth.
"Oh shit, yeah." Tommy worked his pants and boxers past his hips. "Dance for me. You're so sexy."
He wasn't the smoothest with sex talk, but he doubted she cared. She flipped her hair over her shoulder and wriggled her hips. Once more, her skin seemed to glow. God, he wanted her. He scooted to the edge of the sofa cushion and reached for her again.
Cian dropped to her knees. She looked up at him from between his legs and dragged her tongue along his cock.
His vision blurred. His tongue felt fifteen sizes too big and every nerve ending in his body crackled. Maybe it was the lack of sex in the past six months who cared?
She engulfed him in her hot mouth and raked her teeth over the crown of his dick. Every move she made sent shivers through his body. He gasped for breath.
"Come here," he said. He leaned forward and threaded his fingers into her hair. As much as he wanted her to continue sucking him, he needed to be inside her. Tommy pulled her onto his lap, feeling every inch of her softness. He liked a woman with a little meat on her bones and Cian fit his requirements. She settled on his thighs and rolled the condom down his dick. Her eyes sparkled and she licked her bottom lip.
He'd let her take control for long enough. Tommy held onto her waist and positioned her above his cock. He inched down on the seat to give himself a better angle to work from and pushed into her heat.
Cian gripped him from within. Her skin flushed. She tipped her head back, exposing her throat and giving him access to her breasts.
Tommy tilted her forward enough to suck her nipple. He braced his feet on the floor and rocked her on his lap. Her moans and whimpers turned his senses inside out. He slid in and out of her tight pussy. Christ. He flicked his tongue over her areola and smothered his moans against her skin.
Shit. He groaned and spilled his seed in the condom. Cian moaned. When he gazed up at her and released her breast, the pale peach tone of her skin faded to white. She closed her eyes and her lips were parted a fraction of an inch.
"Whoa," he whispered as she tightened around him. Little by little, her color returned. He smoothed one hand behind her head and met her for a kiss.
"Don't leave tonight." She draped her arms around his neck. "Stay with me."
He couldn't see himself anywhere else.