Seeing as I'm hanging out this weekend at the Lori Foster Reader and Author Get Together and Pimping my book, Saturday Night Special, I thought I'd post a hot snippet right here for the humps. The book will be available in July from Turquoise Morning Press, but a little advanced promo never hurt!
Saturday Night Special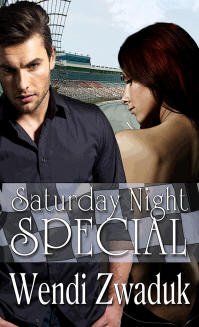 Turquoise Morning Press
M/F, BDSM, Fem Dom, Spanking, Toys
14,000 words
Blaine Haeferle drives fast and lives on the edge. He's not afraid to risk it all for the win—unless his heart is in the mix. He loved once, but things ended in disaster. Can he accept the woman who holds his heart, despite all their jagged past?
Mallory Sweet never intended to leave Blaine without a word. But one night changed everything for her. Instead of facing her past, she ran. Is coming to terms with her past the key to winning the love of her life back?
Anyt
hing can happen on a Saturday night under the lights.
And now for that hump!
"Hey." She didn't move, just watched him. "Blaine. I came back here because it was more private. I'm sorry if I encroached."
"Don't want to talk." Blaine locked the door and crossed the short expanse to her. She shot out of her seat and opened her mouth to protest. He smothered her answer with a kiss. Lust and desire slammed into his brain. As much as he'd told himself he didn't love her, he knew better. She flowed through his soul. Mallory clutched at his shirt and pressed her body to his. This, her soft body underneath him, this is what he needed. Craved. He angled her to the couch and dropped down between her knees. He broke the kiss and shoved her skirt up past her hips. She gasped and braced her feet. The heels of her shoes clicked on the hardwood floor.
"Good girl." He grabbed the thin elastic of her panties and yanked. The scent of her whirled around him. Her cream glistened in the light. His mouth watered. He parted her thighs and buried his face in her pussy. All his unresolved feelings for her, the love, the devotion, the need welled to the surface. He never expected to see her again, much less have another chance to taste her kiss.
"Oh." The word came out in a moan. She threaded her fingers into his hair. "Wow."
Blaine suckled on her clit and without looking down, removed her shoes. He trailed his fingers up and down her leg, bracing her calf on his shoulder. God, he loved touching her. He committed each of her whimpers and sighs to memory.
She murmured his name and pulled on his hair. "Feels so good."
He chuckled and laved his tongue over her labia. Like tasting honey sweetened silk. Blaine parted her pussy lips with his fingers and grazed his teeth over her clit. She bent her knee over his shoulder and pulled him in tighter. Mallory ground her hips against his face.
Not done yet.
He inserted one finger into her channel. She gripped him, holding his finger within her. Holy fuck. If her pussy grabbed at his finger, he could hardly fathom her clenching around his cock. He suppressed a shiver.

Soon.
"Fuck. Just fuck." Mallory quivered and scraped her nails over his scalp. Blaine pumped his finger in her cunt. He loved the burn from her fingertips. Loved when she took the lead. Hell, whoever happened to be leading, he wanted claim her as his own.