It's time for the snogs!
Want more snogaliciousness? Click here.
I know, I know. I've been a little derelict lately in posting to the blog. When life rains.... it really pours. I should've posted more and now I'm going to try to get back on the blogging horse. I thought I'd share a snog from my chocoholic extravaganza, Drizzle Me in Chocolate, from Smut for Chocoholics. :-) I love this story and I hope you do, too.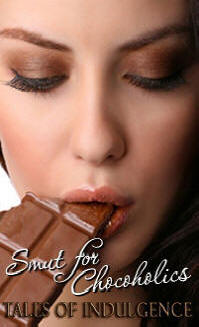 Smut for Chocoholics is all about indulgence, taking wicked delight in the erotic consumption and use of chocolate, with tales from some of erotica's finest authors.. Whatever your relationship with the seductive cocoa, there's something nestling between the covers for you.
Smut for Chocoholics contains tales from Violet Fields, Bel Anderson, Lucy Felthouse, Demelza Hart, Victoria Blisse, Kay Jaybee, Jacqueline Brocker, Tenille Brown, Wendi Zwaduk, Katey Red, Jenny Lyn, Tilly Hunter, Nicole Gestalt and Cass Peterson.
Chocolate might not last forever, but love does.
Elysa agreed to model chocolate, but she never imagined she'd be faced with her past. Simon Dumont playboy, millionaire and her one weakness. Can she get through the shoot with her pride intact, or is he worth losing her heart all over again?
Simon knew damn well who he wanted for those pictures. Only one woman could embody the sensuality needed to sell his exotic chocolates and chocolate inspired sex toys. Elysa Green. He's not about to be denied a second time. Can the Casanova of Chocolates prove he's the one man to make her happy or will their smouldering passion consume them before love strikes a second time?
Available here
And now for that snog!
When the door closed, Simon picked up the chain. His touch against her side tingled her skin. She closed her eyes and measured her breaths. The man shouldn't be able to frazzle her, but he did with ease. She opened her eyes. She'd have to deal with him sooner or later, although she preferred later.
Simon draped the chain across her belly, then sat back on his heels. "It's been a long time."
"It has." She stared at the length of gold. "Twenty-four carat, isn't it?"
"Nothing but the best." Simon sighed. "Let's get it out there. I don't like games and you're horrible at bluffing. You left that night and never told me why. Want to tell me now?"
Her stomach knotted and bile rose in her throat. She'd rehearsed what she wanted to say so many times in front of the mirror, but seeing him in person wasn't like the mirror.
"I got scared," she whispered.
"Of?" Simon smoothed a lock of her hair behind her ear and his touch lingered down her jaw line. She fought the urge to rub her face on his hand. He leaned over her, his mouth a whisper away from hers. His breath warmed her skin. If she arched her back, she'd be able to kiss him. Did she want to kiss him? Absolutely.
"It's nothing." She suppressed the wince. Not what she wanted to say, but damn it. The truth wouldn't come. Breaking things off with Simon hadn't been nothing, but hell, there she was draped in chocolate and wearing nothing but a bandage top and a tight leather skirt.
"I doubt it." Simon tilted her chin, forcing her to look at him. "We will discuss this later." He stroked her bottom lip with his thumb. "Missed you, El. More than I thought I would."