Marteeka Karland came up with a pretty good idea for Wednesdays and I love it. I've been sort of fumbling with what to do with them myself. So here's to Hump Day HUMPS! Click here for more. Then, read on!
Here's my Hump Day HUMP from my latest novella, Best I Ever Had!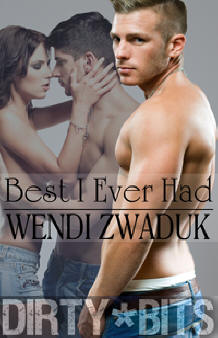 The objective—keep her safe. No one said anything about falling in love.
All she wanted was a pint of ice cream, not to be a witness to a double murder. Good thing Emma's got not one, but two, sexy men willing to keep her safe. As long as she can keep her hands to herself.
Sam's mission? To find the man responsible for the murder. He's not going to rest until the streets are safe, even if it means having his best friend guard his best girl. It's the best option, right? Quint never dreamed he'd be attracted to his best friend's lover…and his best friend. He's got to keep his hands to himself all while figuring out what he wants from life, even if love equals Emma and Sam in Quint's bed.
Is love in the cards or are they going to go up in flames before they get started?
Available here
And now for that HUMP!
"Quint," Sam shouted. "Quint?"
The door creaked and footsteps padded on the floor. Quint appeared over Sam's shoulder. "You rang?"
"Pull up a chair." Sam kept his gaze fixed on her and rubbed his cheek along her inner thigh. "Enjoy the show."
After he exchanged glances with her, Quint eased the rest of the way into the room. "Thank you, Jesus." He sank down in the beat up armchair. One hand palmed his crotch while the other hand gripped the arm of the chair. "About damn time. I have permission?"
"You have mine." Emma licked her lips. This was real. Him, Sam, all of it. Her breath lodged fast in her throat. Their first time all together and she wouldn't change a minute of it so far.
"Do you like having him here?" Sam flattened his tongue along her sensitive skin, grazing his teeth over her labia. "Like knowing he's hard right now? Like me tasting you?"
"Yes, yes, yes," she managed. Sparks shot from her clit to her lower belly and bounced to her brain. The sensation overload overwhelmed her. "Feels good when you stroke me down there. It tingles."
"Fuck. So soft. Silky." Sam palmed her breast and tweaked the nipple until she cried out. "You're mine." He scooted off the bed and pressed her legs open. "Mine."
"God, that's hot." The click of Quint's zipper caught her attention. "Love this."
"Our girl is hot as hell." Sam chuckled. Emma struggled against his grasp on her wrists. "So hot," he added.
Emma shivered as Sam kissed a path of fire down her inner thigh. He knew when to graze her with his teeth to bring the right amount of pain to their play. He flicked his tongue along the naked patch of skin where her curls usually covered. She bucked at the rough of his cheek against her sensitive skin. She bit back a grin. The last bikini wax session paid off. Love and lust sizzled through her veins. Everything he did felt so good.
Sam dug his nails into her ass and suckled on her mons. The burn from his touch licked at her from within. Her pussy spasmed and she bucked off the bed. Her legs trembled and fever overcame her. Sam spread her labia and dragged his teeth over her clit. Rational thought left her brain.
"Oh," she whimpered. "More. God, please."
Sam chuckled. "I love when you beg."